Rey Marino's Legacy Inspires Vision Marine
Boating industry innovator and friend of Vision Marine Technologies, Rey Marino, owner of Hellkat Powerboats has passed away in November 2021.
Boating industry titan and owner of Miami-based Hellkat Powerboats, Rey Marino has passed on.
Marino originally broke into the boating world with his 30-foot Spectre sport catamaran, which was immediately praised by boaters alike around the South Florida area. With great persistence, Marino utilized his vast network and infectiously joyous personality to grow the Hellkat business into becoming one of the industry's top-of-the-line manufacturers.
Over the past few years, a camaraderie between Rey and Vision Marine had been built over a shared passion for boating and a determination to inspire the world of powerboating to defy expectations and break barriers.
The success of the first Hellkat inspired the idea for him to expand the hull and create a new flat deck to bring to market an exotic 32-foot catamaran.
Over the last year, Vision Marine had been hard at work with Marino to accompany a specially built 32' Hellkat Super-Sport Widebody Catamaran with our groundbreaking E-Motion™ powertrain system. This would be with big plans to break the electric boat world speed record previously held at 88.61mph (142.60 km/h) by Jaguar Vector Racing in partnership with Williams Advanced Engineering's Formula E technology.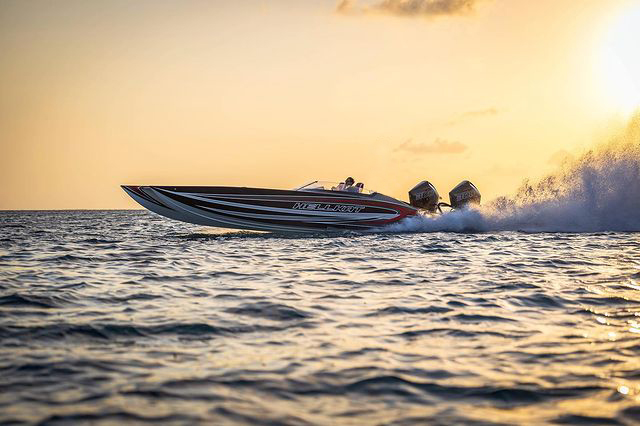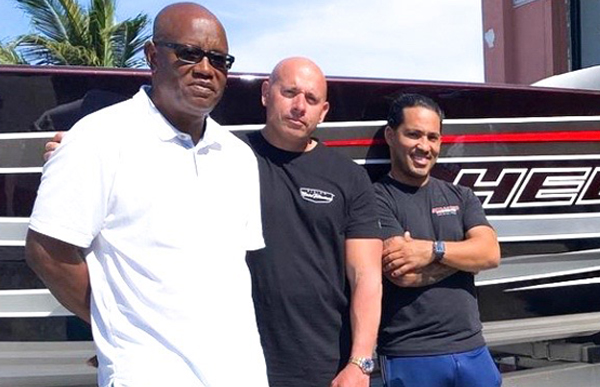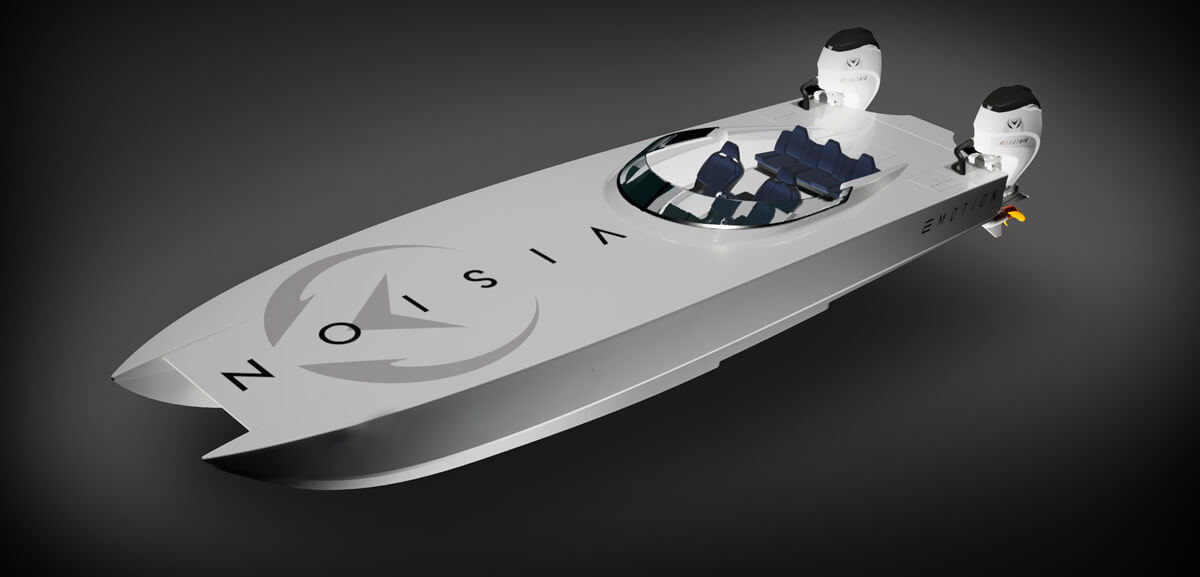 For this accomplishment, British powerboat racer and Jaguar Vector co-founder and technical director Peter Dredge sped across the UK Lake District, which included the two legs of the famous 1km course on Coniston Water, England. Malcolm Crease, CEO of Jaguar Vector Racing, called this "a great first step in bringing the power and versatility of electrification to the marine industry."
For Vision Marine's task of setting a new world record, we have teamed up with a dynamic US-born powerboat racer and 3x F1H20 World Champion, Shaun Torrente. Torrente will attempt to break the world record at the 2022 Lake of the Ozarks Shootout by going a jaw-dropping 100 mph (160 km/h).
The prestigious 33rd annual Lake of the Ozarks Shootout, held in Sunrise Beach Village, Missouri, is the largest unsanctioned boat race in the US. and has been called one of the nation's eight "must-see" boating events by Powerboat Magazine. At the 2021 Shootout, we set a new criterion by beating our own world speed record in our very own Bruce 22 electric boat, going a then incredible 49 mph using our 180 hp E-Motion™ outboard motor.
"Torrente's world-renowned skills bring the expertise and experience that will be integral in setting this new world record." comments Vision Marine CEO, Alex Mongeon. "It is with great excitement to have a fierce competitor like Shaun on board as we aim to make history in honor of Rey's memory."
Racing since he was 15 years old, Torrente is revered around the boating world as a tremendous success. He expressed his excitement on his partnership with Vision Marine and Hellkat saying, "I'm pleased to be working with Vision Marine Technologies and Hellkat Powerboats on this advanced new project. Technology and innovation are at the core of my racing team and manufacturing business. I'm excited to partner with companies that share those attributes."
"I'm extremely competitive, so I relish the opportunity to set a record in the world's fastest electric boat." Torrente continued. "With the team, we've assembled, and the commitment of the partners, I'm confident in our odds."
This will mark the anticipated first collaboration between Vision Marine Technologies and Hellkat Powerboats, as it will be fitted with Vision Marine's technologically disruptive E-Motion™. This specialty boat, which also features an exotic fiberglass infusion of the hull, will surely be the most anticipated star of the Ozarks.
Mongeon and his team are filled with excitement for their return to the Ozarks in big fashion, stating "Rey's commitment to excellence commanded respect from his peers and we are excited to carry on his legacy in the most thrilling way possible."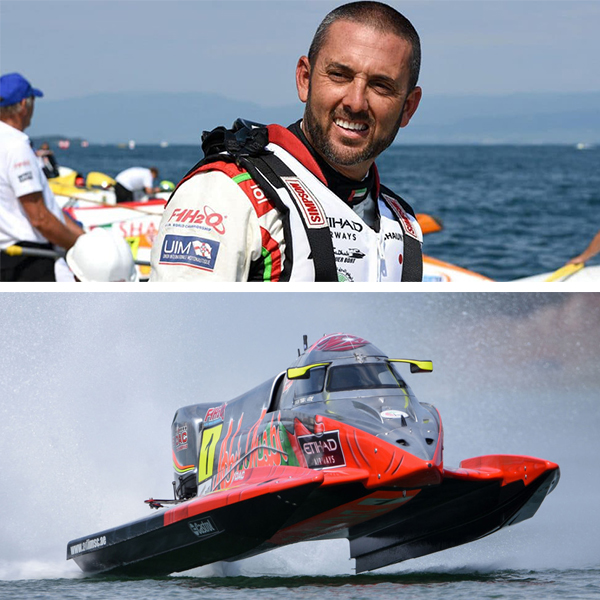 "Rey's commitment to excellence commanded respect from his peers and we are excited to carry on his legacy in the most thrilling way possible."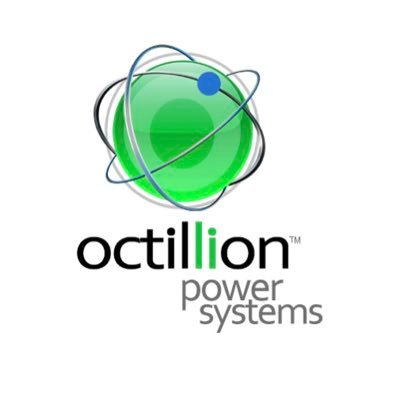 This will also mark the first collaboration between Vision Marine and Octillion Power Systems. Showcased in the Hellkat that Torrente will be racing will be the first battery pack made specifically for the maritime industry, designed by Octillion. This same battery pack will also be mass produced and sold in conjunction with the E-Motion 180.
Octillion is a Tier 1 supplier of electric vehicle battery systems focused on designing and building lithium-ion battery systems. They have delivered more than 300,000 electric vehicle batteries for the global market, specializing in cars, trucks and buses. With Octillion entering the electric boating world, it will be remembered as a seminal moment in the maritime industry.
What would break 100 mph means for the electric boating industry?
.A world of new opportunities, and Vision Marine is leading this revolution in environmentally friendly solutions to better the waterways for our Earth's future. As the recreational electric boating industry continues to rapidly grow, our technology, coupled with other leading innovators of the industry, gives way to a new experience of higher speeds, longer range, immense power, and torque, while also offering no pollution, no emissions, and a noiseless environment.
The future is already here!