Recap: Vision Marine at the 2022 Miami International Boat Show
On February 16th, 2022, Vision Marine Technologies attended the Discover Boating Miami International Boat Show at the Miami Beach Convention Center for a five day long event. Vision Marine proudly showcased its coveted E-Motion™ Powertrain Technology to OEMs, consumers, and boat enthusiasts.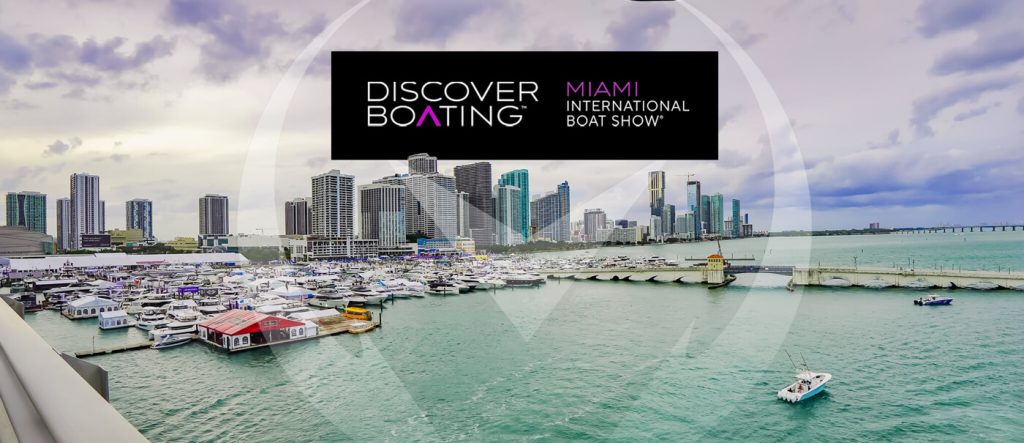 A Boat Show Marked by Innovation
Vision Marine's E-Motion™ electric powertrain technology was showcased alongside the boating industry's newest and most exciting technological advancements in propulsions, electronics, and materials.
Among this year's events' stand outs were Mercury Marine's highly anticipated V12 600-hp Verado Outboard, Honda's (iST) Intelligent Shift & Throttle® models, SIONYX's Nightwave advanced digital night vision technology, and Pursuit's NMMA Innovation Award winner, the S 428 Sport Center Console/Walkaround Fishing Boat.
The most noticeable difference in this years' boat show was the newly attained eco-friendly atmosphere.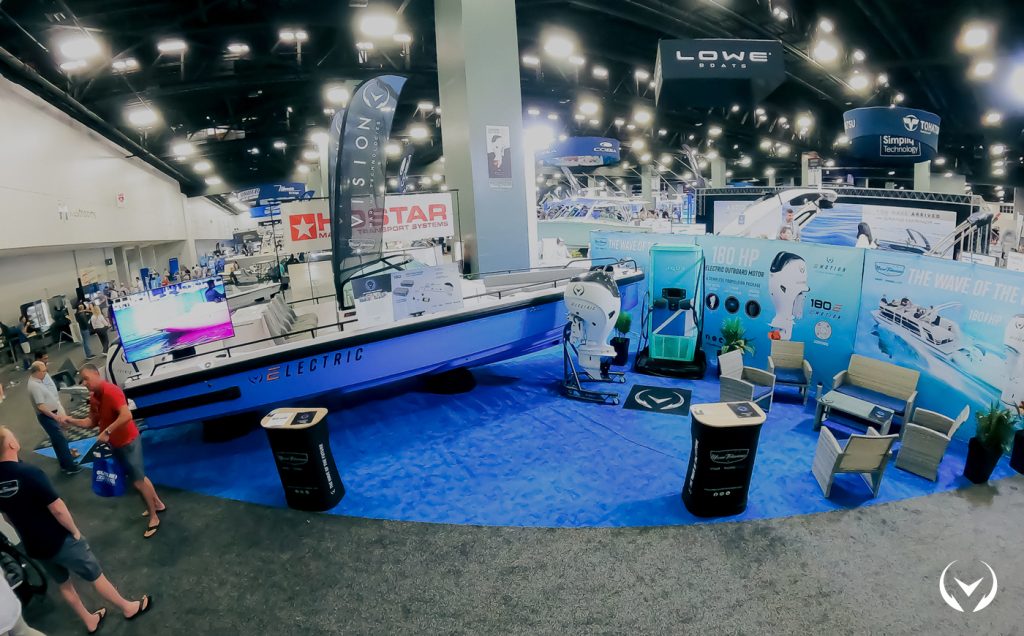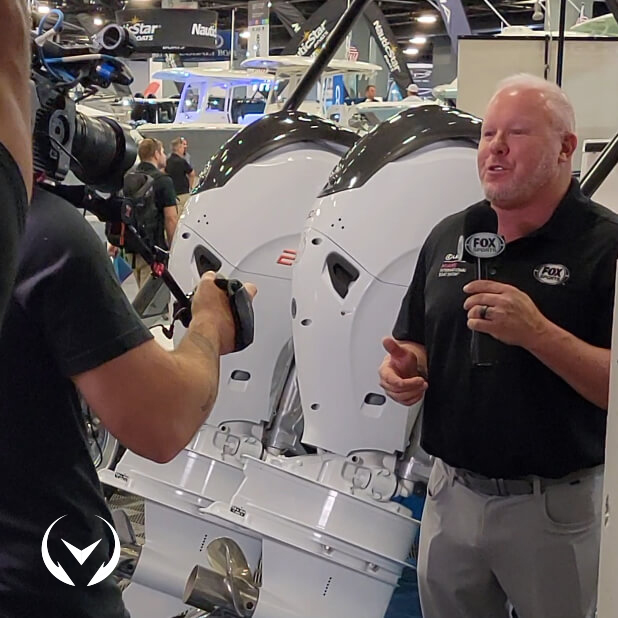 Vision Presence at the Miami International Boat Show 2022
Vision Marine Technologies was stationed both on land and water.
At the sea isle marina docks , Vision Marine had a Starcraft 22 pontoon equipped with the E-Motion™ 180E Electric Powertrain, ready to hit the Miami Bay to showcase our technology to some of the boating industry's largest OEMs and news outlets alike.
Inside the Miami Beach Convention Center, Vision Marine a twin application 180E electric powertrain rigged onto the Axopar 28 Brabus edition center console powerboat. Axopar 28 boats are typically used for day-cruising, saltwater-fishing and freshwater-fishing, which made it a perfect candidate to display our noiseless and clean technology.
Vision Marine also had a display located directly outside the convention center, in the Charged Pavillion, where the Volt 180, equipped with an E-Motion™ Outboard, was on full display.

Vision had the opportunity to meet with major media outlets and inform a wider audience
Vision Marine had the chance to meet with numerous media outlets, which gave a larger platform to inform consumers and OEMs about the powerful and disruptive technology the E-Motion Electric Outboard Powertrain has to offer. Esteemed publications, such as The Miami Herald, CGTN, Fox Sports, and many more, met with the Vision Marine's team.
Our team was excited to meet with Fox Sports field reporter IndyCar racing legend and champion, Paul Tracy.
The Fox Sports segment was filmed for their first ever one hour special covering the Miami International Boat Show, which will debut on Sunday, March 6, 2022. The special will include on-site coverage, as well as interviews with industry leaders from the boating and marine industry. The special will be anchored by sports television play-by-play announcer Kevin Lee.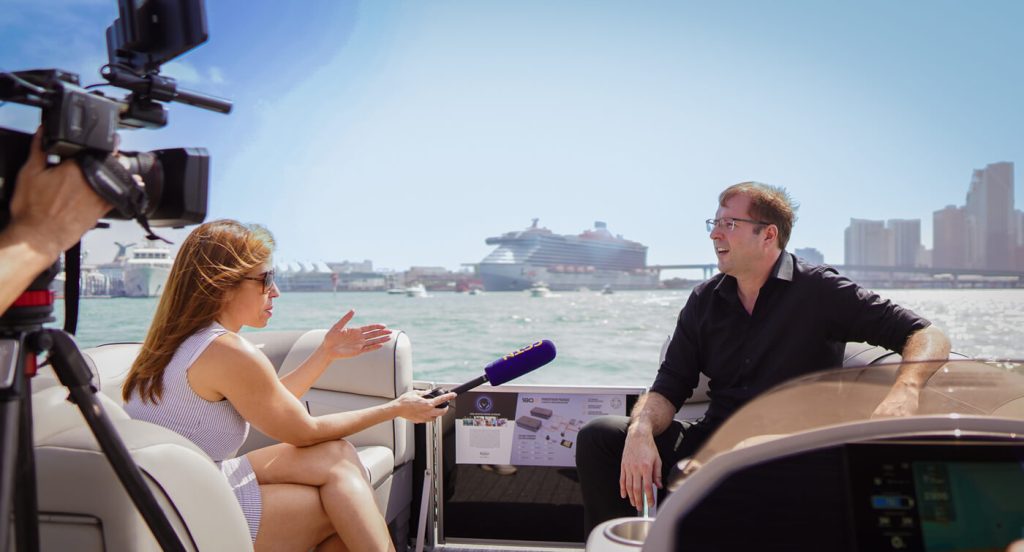 Getting The Global Vision Marine Team Together
Vision Marine's booth also welcomed visits from collaborative partners. Periodically, and throughout the weekend, Vision Marine was enthusiastic to have boating industry legend, Pat Weismann, of Weismann Marine, stationed at the booth. Pat shared his enthusiasm for the design of the lower unit assemblies, currently being developed for the mid-section of Vision Marine's E-Motion™ Outboard.
In addition, iconic F1 powerboat racing champion, Shaunn Torrente, spent some of his weekend with the Vision Marine team. Torrente walked around Vision's booth and discussed his excitement for the Lake of the Ozarks Shootout coming up in August of this year.
Vision Marine took the opportunity of the two boating industry luminaries and Vision collaborators, Pat Weismann and Shaun Torrente, being in attendance to make sure everyone had a chance to get together. All three Weismann, Torrente and Vision Marine shared an excitement for bringing the E-Motion™ to market in it's most capable and dominant form.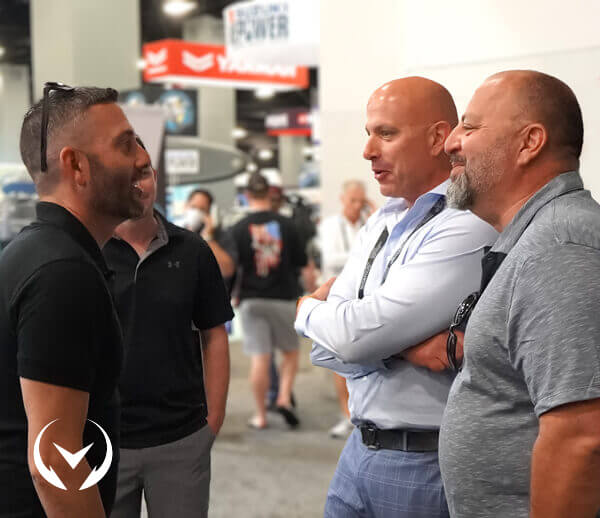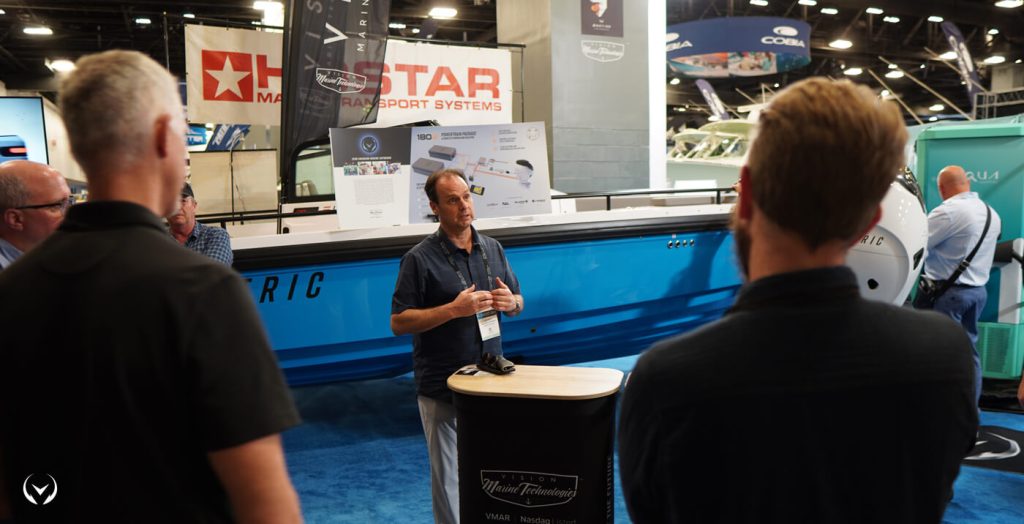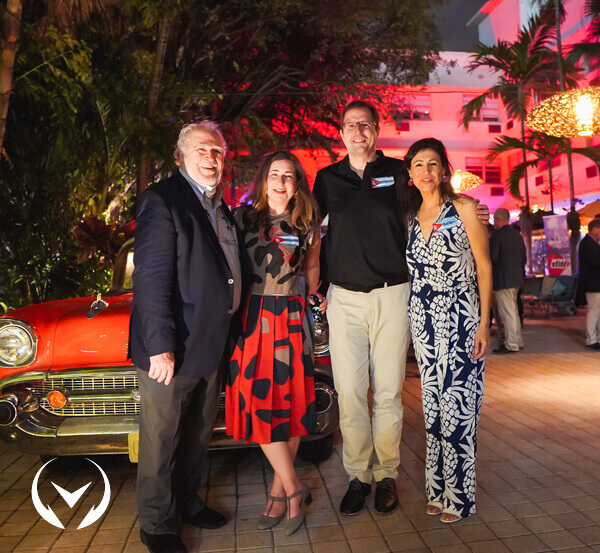 Vision Marine was a proud Sponsor of BoatTEST President's Night
Vision Marine Technologies was also a proud sponsor to BoatTEST's Night at the Havana Club, one of the most exclusive networking events of the week, which features many of the boating industry's top figures.
BoatTEST was founded by Jeff Hammond, a 50 plus year veteran of the boating industry, having been an editor or publisher of 7 major boating magazines in America, including Boating, Yachting, Motor Boating, The Skipper, Motorboat, and Motoryacht International. BoatTEST.com has been the pioneer of streaming boat reviews on the internet. With more than 3,500 videos, including tests, reviews, factory tours and interviews, BoatTEST is the world's largest online resource for new boat research.
More about the Miami International Boat Show
This year's Miami International Boat Show was the first to be integrated with the Discover Boating brand, and was a joint production by Informa Markets, the National Marine Manufacturers Association (NMMA), and the International Yacht Brokers Association (IYBA), and was the first collaborative production combining the Miami International Boat Show, the Miami Yacht Show, and SuperYacht Miami.
Historically and collectively, the Miami International Boat Show, the Miami Yacht Show, and SuperYacht Miami have attracted over 100,000 global visitors from over 30 countries while generating well over $1 billion for the state of Florida.
The 2022 Discover Boating Miami International Boat Show did not disappoint as it was the culmination showcase of the marine industry's biggest brands creating one seamless memorable experience for OEMs, exhibitors, consumers, and the global marine industry community.