Vision Marine's E-Motion™ 180 HP Electric Outboard Fills the Gaps for OEMs
Over the last few years, most notably post COVID, the global recreational boating market, and especially the outboard engine market, has witnessed a tremendous growth spurt. According to the National Marine Manufacturers Association ("NMMA"), outboard engine sales in the United States alone reached record levels during 2020, rising for the ninth consecutive year, and up to 329,500 units. That represented a whopping 17.6% year to year increase, and the highest annual sales total since 2000. North America represented more than 40% of the worldwide outboard engine market volume share in 2020.
The NMMA projects outboard sales in the US will reach 1.4 million units in 2025, with such sales for the next 3-5 years seeing a 10% annual accelerated growth per year, and a shift away from traditional internal combustion engine ("ICE") outboard motors to fully electric options.
Xavier Montagne, CTO Vision Marine Technologies Showcasing E-Motion™ Technology
The increasing popularity of outboard motors
There are many reasons contributing to the significant incremental growth of outboard motors. Firstly, "outboards" are located on the outside "transom" (or the rear of the boat), as opposed to inboard motors which are placed inside the boat, either in the hull's mid section or in front of the transom. The outside placement provides many advantages for the outboard, such as more open space for boaters and easier motor access for servicing. In general, outboards require far less maintenance and annual upkeep than inboards, due in part to the more intensive winterization required for inboards, which are at greater risk for freeze damage, and more susceptible to gunk buildup and condensation around the fuel tank because of the enclosed location.
Twin E-Motion™ 180E Powertrain application.
Inboard and outboard technology continues to evolve across the marine industry.
Traditionally, inboards were the most viable option in order to achieve higher speeds, hence why they are commonly seen on speed boats, towboats, and other vessels made for water sports and performance. However, this has shifted, as outboards are now made lighter in weight and more powerful, with a range of more than 600 horsepower. The increased power and decreased weight allows for more speed, which enables boaters to equip outboards onto previously unlikely vessels, such as a pontoon, which had traditionally been inhibited in its functionality due to its weight and lack of power.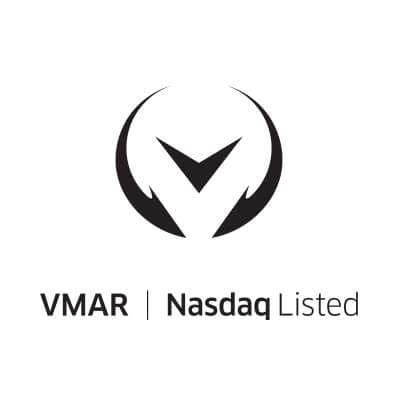 Vision MarineTechnologies (NASDAQ:VMAR) is taking electric outboards to the next level
Families and millennials comprise the largest component, as well as the fastest growing segment of the outboard market, at approximately 28%. This number is expected to account for as high as 33% by 2025. This is Vision Marine's target demographic, as families and millennials traditionally have significant discretionary income, with pontoons increasingly seeming to be the boat of choice.
Electric outboard technology has traditionally exhibited low power, low voltage, and low performance. Subsequently, the electric boat market has only been able to offer smaller trolling or fishing motors of up to 50 hp, all of which are used for slowly cruising lakes and bays. This is precisely where Vision Marine will disrupt the boating industry with the introduction of its proprietary E-Motion™ 180E (180 horsepower) electric outboard. This fully electric powertrain system is the first and only of its kind to offer truly unrivaled eco-friendly immense power and torque, zero emissions, no noise pollution, and minimal maintenance. The E-Motion™ will be game changing for both OEMs and consumers, especially those who are enthusiasts of recreational boating activities, such as watersports, fishing, and family outings.
Vision Marine's E-Motion™ electric outboard fills the gaps for OEMs
Presently, the E-Motion™ stands alone, with no other electric outboard motors even close to entering the market with comparable high performance capabilities. Many major OEMs have developed their own lower performance outboard, but these do not rival Vision Marine's advanced technology.
OEMs sorely need a high performance electric outboard option, as consumers now, and increasingly in the future, will demand a viable electric alternative. Vision Marine plans to close this gap, as the E-Motion™ can be equipped onto any 18 to 28 foot boat. Vision Marine expects to be ready for scaled production during the first half of 2023, per its previously announced Manufacture & Supply Agreement inked with McLaren Engineering in late 2021.