Renting en electric boat

has never been 
such a bargain!
*With a $500,000 investment
Turnkey offer (website, training, boat fleet)
MINIMUM MAINTENANCE NEEDED.
MAKE PROFIT ON AN HOURLY RENTAL RATE.
Vision Marine Technologies (formerly known as The Canadian Electric Boat Company) rental vessels are designed to compete with larger electric rental vessels. The rental edition has been designed for minimal maintenance. The wood components are replaced by composite materials, offering high-end products at competitive prices. No other electric boats manufacturer can match such characteristics.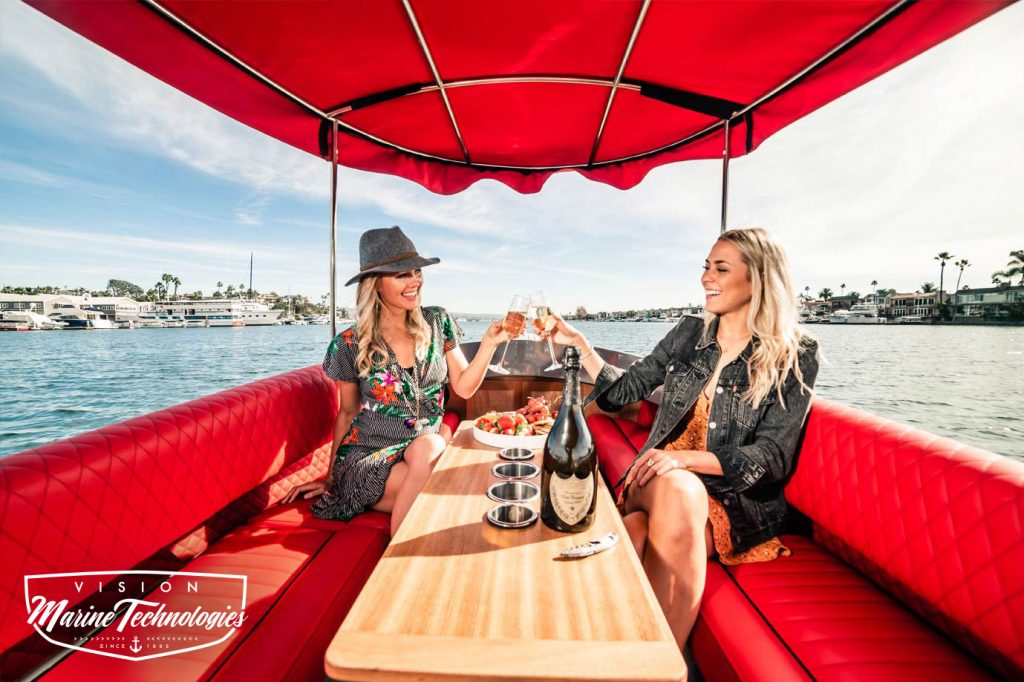 Deposit required. Prices may change without notice. Transport and preparation not included.
The Fantail 217 electric boat is inspired by the most majestic vaulted boats. Hosting up to ten people, it will certainly turn heads in its path. Silent, handy, with zero emissions, requiring little maintenance in addition to inexpensive operation, the Fantail 217 recharges on a 110-volt (220-volt in Europe) socket and allows 10 hours of hassle-free operation. All Vision Marine Technologies boats are equipped with an indicator of the remaining battery charge. The Fantail 217 is equipped with a Seamark protective awning that protects it from the weather, but also serves as a cover for storing or towing the boat. On either side of the boat, openings with zippers allow easy access. The space under the seats and the deck offers plenty of storage. Visit the Fantail 217 page for more details.
A really profitable investment.
Inspired by the classic design of the 1930s, the Quietude 156 electric boat, which is easy to maneuver, is quiet and emission-free where four adults can sit comfortably to relax and enjoy the scenery. Classically designed, the boat's features are clearly modern. Solid, reliable and unsinkable, Quietude 156 requires little maintenance and is inexpensive to use. Allowing 6 hours of hassle-free navigation, its cutting edge electric motor is truly eco-friendly and plugs into a 110-volt (220-volt) power outlet in Europe. As with all Vision Marine Technologies boats, an indicator shows the remaining battery charge. In addition, by slightly lifting the position of the engine, the model adapts perfectly to the range. Equipped with a protective canopy that protects against the weather, it also serves as a cover when storing or towing the boat. Openings with zippers on either side of the boat allow easy access and space under the seats and deck provides plenty of storage.
When Vision Marine Technologies designed the Quietude 156 model, they wanted to enable you to truly relax and appreciate the scenery with your family and friends on your electric boat. Vision Marine Technologies offers high-end products at reasonable price. No other electric boat manufacturer offers such features at this competitive price.